Photo by USA Today Sports Images
Florida Basketball
Instant Analysis: Season saving win over No. 4 Auburn
---
On the heels of a blowout victory against Mississippi, Florida looked to continue their success at home. With No. 4 Auburn (15-2 / 3-2 SEC) making their trip south to the Exatech Arena, the Gators (12-5 / 4-1 SEC) looked to not only extend their success in conference play but show they're able to compete against the nation's best teams. They did so decisively, winning 69-47.
Here is our Instant Analysis:
-----
WCC: Florida-Auburn Game Thread
-----
What Went Right: Florida's rebounding limited Auburn's ability to function offensively. They out-rebounded the Tigers 44-29, limiting the visitors to seven second-chance points.
It was more than their work on the glass that allowed the Gators to topple the No. 4-ranked team in the nation. Tried they did, Auburn was unable to find success shooting the ball. They finished the game 14-55 from the field, 4-23 from three, and their 47 points were their lowest all season. Their previous low was 64 against Alabama.
He Stole The Show: This was Omar Payne's game. As he was inserted into the starting lineup to help provide length against a larger Tigers team, he shone in excellent fashion. He did not miss a beat, in fact, he didn't miss a shot as he finished the contest with 19 points (9-9) and contributed 11 rebounds for his first career double-double.
Andrew Nembhard also contributed in ways he does best. Though he was hampered by the flu, he finished with six points (3-7) along with five rebounds and assists. It wasn't the high-energy game he usually displays but he was able to pick his spots with ease and use his energy conservatively in order to maximize his potential on offense while dealing with an illness.
These Numbers Don't Lie: This Florida team is not an offensive juggernaut, that's been apparent all season. But what head coach Mike White has been creating is a team that will break down opposing offenses due to their stifling defense.
This was the lowest point total Auburn scored in a game this season. It was the lowest shooting percentage Florida allowed all season. Those two facts are not mutually exclusive. Yes, the rowdies helped disorient the Tigers' offense but that's not to take away the success this Gators team had this afternoon. They won't suffocate teams with a three-point barrage but will remain effective if they can slow the game down with their defense to allow their playmakers time to operate on offense.
The Bottom Line: It's become apparent that the Missouri game was an outlier. Florida is 4-1 in SEC play and making a commanding argument to being one of the conference's most-feared teams. It won't be likely that they limit offenses to sub-50 point-scoring games but this team's defense will win them games on nights foul trouble and shooting become issues.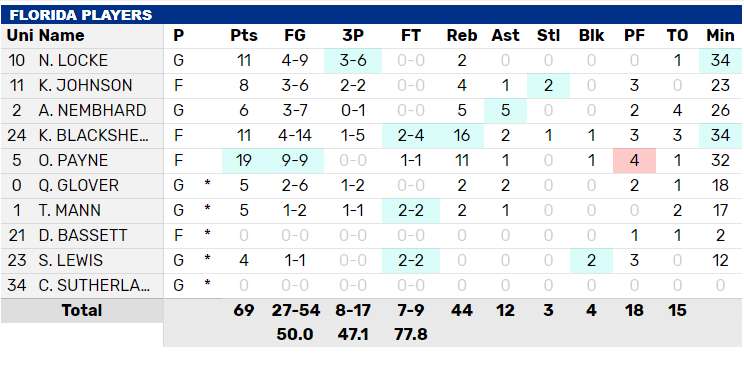 CHECK OUT OUR INSIDE THE GATORS FANATICS STORE FOR THOUSANDS OF FLORIDA GATORS RELATED ITEMS - MANY ON SALE - BY CLICKING ON THE BANNER BELOW:

Florida Gators Colosseum OHT Military Appreciation Fleece Full-Zip Jacket - Charcoal
------

Florida GatorsBranded Women's Essential Hacci Campus Sweatshirt - Heathered Gray
------

Florida Gators Antigua Stance Flannel Button-Up Long Sleeve Shirt - Royal
Never miss the latest news from Inside the Gators!
Join our free email list