---
On Wednesday, Gator football head coach Billy Napier, defensive lineman Justus Boone, and kicker Adam Mihalek met with the media to recap the team's previous loss to Kentucky and preview Saturday's matchup against South Florida.
Here are the main takeaways:
Billy Napier
As Florida heads into the USF game, Napier said that all three phases of the team are improving in the communication aspect, something he calls "speaking the language." He added that the team is improving in leading by example during practices.
With a plethora of young players, Napier was asked how the team gets over the hangover of losing a game. However, Napier doesn't equate the loss to a hangover, but rather a speeding ticket. "You're a little more aware of the things you need to do if that makes sense," Napier explained. He added that the competitiveness of his team causes the team to raise their awareness of what they did wrong and how to fix it.
The Gators are heavy favorites over the Bulls, which may cause other teams in the same situation to overlook their opponent. Napier said the team isn't focused on that. "One week at a time. As cliché as it sounds, I think it's reality," Napier said on the team's mindset. Napier said this extends to the entire organization, from players to off-field support staff, as each as a punch list of tasks to due throughout the week. "Like I said earlier in the week, we don't care who we play," Napier said. "We are consumed with improving and being more efficient in how we do things."
Starting linebacker Ventrell Miller and starting offensive lineman Michael Tarquin both suffered injuries against Kentucky and will be out against USF. Napier did not give a timetable for return. Additionally, backup quarterback Jack Miller III, who was expected to return this week, will not be available and will be reevaluated next week, according to Napier.
With Miller out, redshirt freshman Scooby Williams will be making his first-career start. "It's a great opportunity," Napier said. In the room, only two (Miller and Amari Burney) have veteran experience with the rest having almost zero experience. However, Napier knows that that doesn't mean the young guys haven't been working hard. "The benefit of how we practice is that those guys get the same number of reps, and they've been able to learn, and improve and process fundamentally," Napier said. Napier further explained that with losing Miller, the defense loses a big communicator, which he said is the first thing he thinks of.
With a team of young guys, one of the new faces on the defense that has impressed Napier is Justus Boone, who recorded his first-career sack against Kentucky. "Boone's one of those guys that I'm most proud of," Napier said. He explained that his work ethic and discipline earned him the right to see the field early. "Better humans make better football players, and I think he's a reflection of that," Napier added.
With Adam Mihalek taking the full-time kicking job, Napier praised his performance through two games. "Adam's been impressive since the day we got here," he said. "He was able to take advantage of an opportunity in spring practice… He's earned it." Napier said that Mihalek's skill, care for the team and his hard work helped win him the job. Napier added that Trey Smack is getting healthy at the moment.
Napier pointed out that one thing the team needs to improve is energy coming out of the locker room heading into the second half. "I don't know if we've started as fast in the third quarter as we have started in the first quarter," he said. He added that the staff quality controls every aspect of the game and said it's something they need to do better.
Justus Boone
After redshirting in 2021, Boone made his first impact play against Kentucky with a sack on Will Levis in the first quarter. Boone said his mindset any play is trying to get a hit on the quarterback, whether he has a clear shot or not. "For me, personally, it's everything," Boone said. Boone explained that not playing much last year to making a big play in a big game in his first full series was big for him. Initially, Boone was flagged for targeting, which worried him because he didn't want to let his team down. When the call was overturned, he said he felt the same as he did when he initially made the sack.
While Napier said the team needed to put the loss behind them, Boone admitted to having trouble putting the loss behind him. "I don't think I ever put a loss behind me," he explained. Boone said that the loss puts a chip on his shoulder to be better and be more prepared for the next game.
Building off what Napier said about Boone's growth, Boone said this growth was something that came last season while redshirting. "I really snapped into it last year. Put my head down. Keep on working. Keep on doing the little things that matter," Boone said. He added that the preparation while redshirting prepared him for playing a bigger role in the defense.
With Ventrell Miller out, the Gators lose one of their top defensive communicators on the field. "It will be a little setback to not have (Miller)," Boone explained, "but like I also said, collectively as a team, we all have player accountability." He said that this accountability makes the group communicate altogether as a group rather than rely on one player.
Under new defensive line coach Sean Spencer, the group does a pregame chant led by one of the players. Boone led the chant before the Kentucky game. "I wouldn't say I won it," Boone explained. "I would say I was more eager to volunteer and do it." He said that before games, he likes to be loud and pump up the team. Spencer was known for having a raw-hide bone on his desk at Penn State as a symbol for calling his group the "wild dogs", but Boone said the team doesn't do anything like that now. "We do bark a little," he said.
As heavy favorites over the Bulls, many expect the Gators to win comfortably on Saturday. Boone said that Spencer has engrained in his team to not overlook USF. "One thing that I can refer back to that Coach Spencer told me was that we don't disrespect or look down on any team we play," Boone explained. "We always show respect."
Adam Mihalek
A former walk-on, Mihalek won the starting kicker job after competing with true freshman Trey Smack in camp. "The competition between me and (Smack) has been really good," he explained. "Trey's a really good kicker, brings the best out of both of us." Mihalek explained that playing soccer his entire life gave him a competitive edge which prepared him for big-time college football.
Mihalek's journey to Florida is not one most starting kickers take. In fact, he never kicked a football until his junior year in high school. "My junior year of high school, the football coach of my high school came up to me and asked me, 'Hey, do you want to kick for the football team?' And I was like, 'Sure, I've got nothing to lose,'" Mihalek recalled. Recruiting-wise, Mihalek said he only received two offers (Army and Navy) and a few preferred walk-ons, including Florida. Although he was close to going to Navy due to family ties, he chose Florida due to wanting to play for a big school.
Although a walk-on who was a part of the "Juice Boys," the sideline hype-group made up of walk-ons and backups whose job is to hype up the crowd, in 2021, Mihalek realized that with two kickers leaving and a new staff coming, he had a tremendous opportunity in front of him. "I was like, 'I know what I can do. I know I can do better than what I was doing,'" he said. With that, Mihalek adjusted his kicking technique including changing his jab-step to a two-step, straightening out his plant step and focusing on contact.
Mihalek hit his first field goals of his career against Kentucky, including a 50-yarder in the second quarter. "It felt amazing," he said about the kick. "Put in a lot of time and effort in practice. Hitting something like that in a game is pretty special." Although he's a confidence person regularly, Mihalek says hitting a kick that long is "pretty awesome" and that he doesn't feel pressure from the atmosphere. Through his young career, Mihalek is perfect on extra-points (three-for-three) and field goals (two-for-two).
Punter Jeremy Crawshaw is Florida's leader in the special teams room, so much so that he's on the leadership team. "He's a pretty uplifting person," Mihalek explained. "He has an Australian accent, so certain things are funny… but there will be times when he'll be talking, and it's like, 'Wow, this is serious,' and it will open our eyes." Crawshaw may be a leader for the team, but Mihalek joked that he's a "lost cause" when it comes to kicking off. "We would try to help him out with certain things, but honestly, he would hit a line-drive, and it would spin and go left." For him, Mihalek said learning to kickoff came easy to him.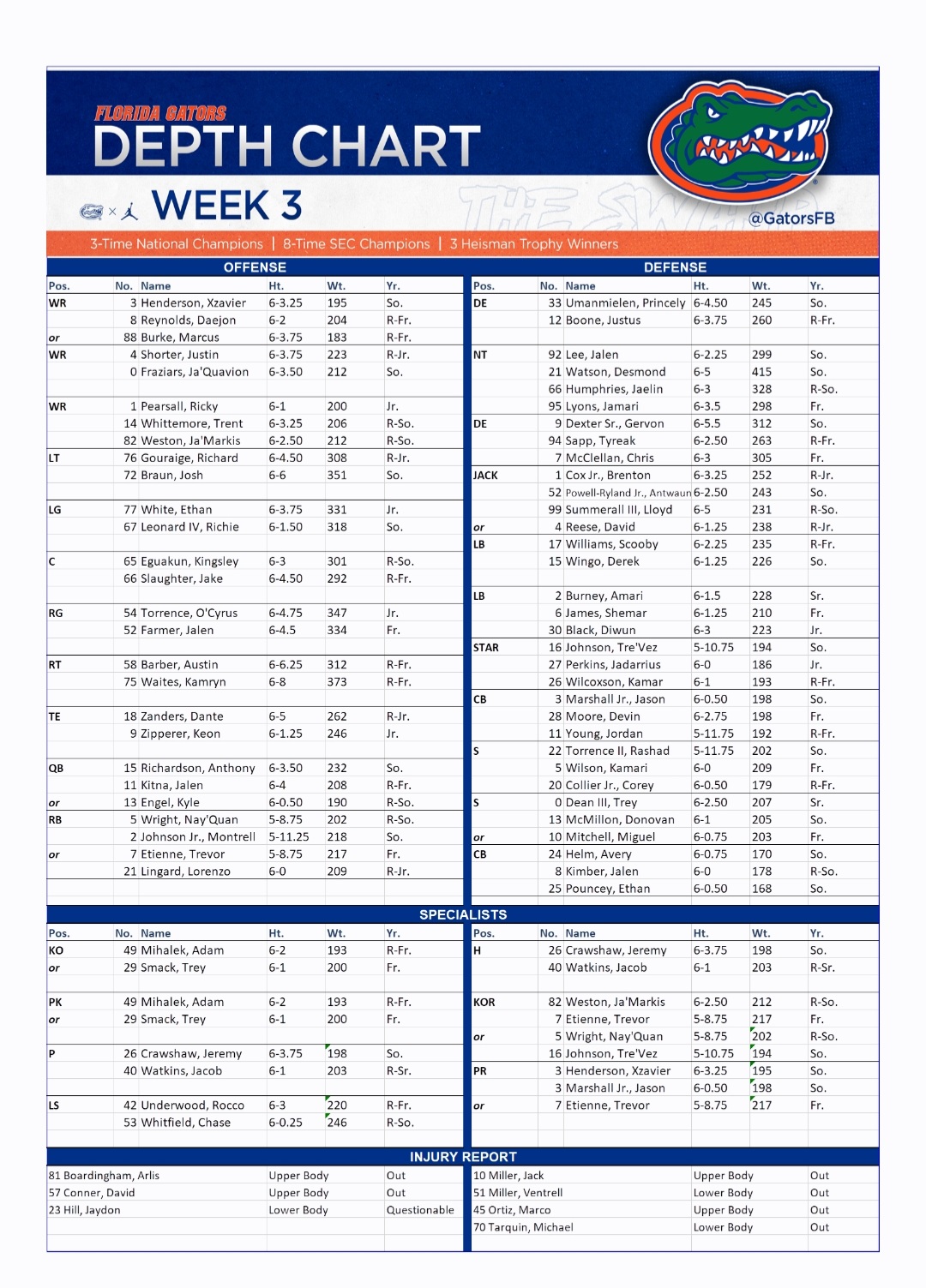 —–
WCC: Updates on everything Billy Napier, Justus Boone. and Adam Mihalek had to say can be seen HERE.