(Photo courtesy Adam Kissayi)
---
Last summer Palm Bay (Fla.) Bayside defensive end Adam Kissayi started to make a name for himself with his performance at Florida's Friday Night Lights Camp.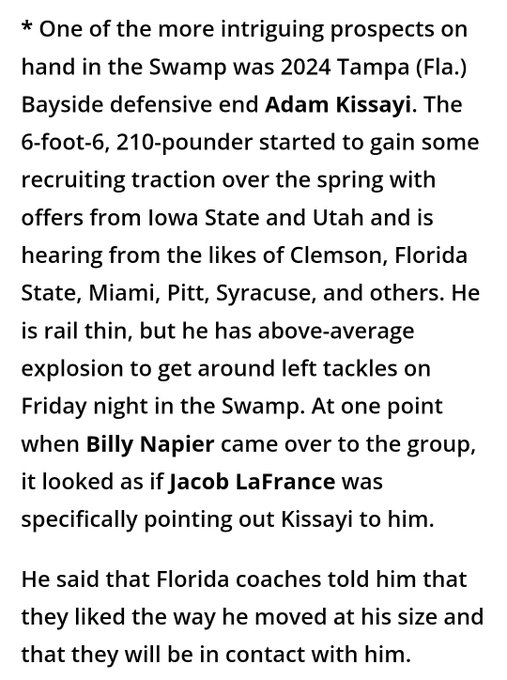 The 6-foot-7, 225-pounder has early offers from Iowa State, Michigan, and others. On Saturday he was back on campus for the Gators' Junior Day.
Coach P w/ @Adam_kissayi & @deshaun_harper2 On Visit to University Of Florida #BeMWFBuilt #MWFStudentAthletes pic.twitter.com/gTm0JKQMoH

— Mental Warfare Fitness LLC (@BeMWFBuilt) January 22, 2023
QUICK Q&A
Who came with you on your visit?
"I visited with my coach and my teammate [2025 athlete Deshaun Harper]."
What is your contact like with Florida, what was the message to you?
"I spoke with many coaches, we just talked about what it takes to play football at the next level. They said I had gotten a lot bigger and the defensive recruiter and I are in touch often."
What was the highlight of the day?
"Sitting in the d-line meeting room and watching and breaking down film of some of the best edge rushers with Coach [Sean] Spencer I learned so much from just 20-30 mins of film in there and I will be applying it to my game."
What is he like?
"He's a great coach. He's turned guys that have had 0 sacks into having 15 sacks a season. He's a funny guy and you can tell he has a love for football. He could've just kept talking about football for hours and I would've listened."
What are your thoughts on the new football facilities?
"The new facility is very, very nice."
What are your thoughts about Florida after taking this visit?
"I think Florida is a great school for football, and academics as well."
Kissayi is ranked as the No. 590 prospect in the nation according to the On3 Consensus.